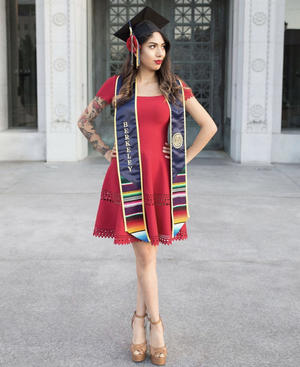 Coming to Cal
Maria Juarez is finishing her first year as a Ph.D. student in Molecular Cell and Developmental Biology at UC Santa Cruz, part of the Biomedical Sciences and Engineering program. After spending the past few months rotating through three labs – seven weeks in each – she recently got her lab assignment. Maria will be working in the DuBois Lab studying Respiratory Syncytial Virus, a leading cause of severe lower respiratory tract disease in children worldwide.
When Maria started her freshman year at UC Berkeley, she wanted to major in biochemistry. She'd done well in her AP biology course in Pomona, California, so she thought molecular and cell biology would be a good fit. Maria put all her attention on her coursework, wanting to do well in her classes. That's what she thought going to college was all about.
Maria was accepted into the Biology Scholars Program (BSP) and in the seminars she attended, she started hearing about research and why it was important to get experience in a lab. "I didn't understand how important it would be to get into graduate school or to get into medical school.
Into the Lab
Maria got her courage up and asked her lab instructor if there were any opportunities in the lab he worked in. He introduced her to the Principal Investigator (PI), Professor Paul Fine.
Dr. Fine is in the Department of Integrative Biology. His lab, The Fine Lab, "investigates the origin and maintenance of Amazonian rain forest tree diversity." He and his lab members – graduate and undergraduate students – carry out research in the Peruvian Amazon and in the lab at UC Berkeley.
Even though she'd taken lab preparation courses, at her interview she found out just how unprepared she was. "He asked me what kind of lab experience I had. 'Can you hold a pipette? Can you work a pipette?' he asked.  And in my mind, I thought, sure I can work a pipette. Honestly, I had no idea what he meant by a pipette. In the lab courses that I took, we never used real pipettes. We used a dropper. I was really under the impression that that was what a pipette was."
Maria spent many months measuring the length of the leaves that had been collected in the Amazon. While the work was very repetitive, she learned why the repetition was so important.
"It was an experience for me to understand that in science you're in the lab and you're doing work that might feel a little repetitive, but afterward there are other phases for the research." Later, Maria used her newly acquired pipette skills to extract DNA from the leaves.
"Once I started doing research, I was more focused on learning real skills and techniques in the lab. There's no way I would have learned a protocol just taking a lab course and doing it once and never doing it again versus doing it almost every day. It was just a whole other focus and shift into what I wanted." 
Out in the Field
That summer, Maria got her first field experience through the Oakridge National Laboratory. She spent part of her time in Puerto Rico collecting soil samples from the floor of the rainforest. Then she took them back to the lab in Tennessee and treated them with chemicals to read the nutrient content.
"The same measurements need to be taken over time and around the same time of year. So, while other people have done it before, it was important for a bigger scope of work trying to find a trend in how the nutrient content is changing over time and how that's also affected by people that are using the land differently or hurricanes and other natural disasters that happen." They also used the research to inform policy, focusing on what needs to be done to protect the rainforest.

Back to Biochemistry
When Maria returned to Berkeley in the fall, a conversation on the bus led to a new research opportunity working with Dr. Jamie Cate in the Department of Molecular & Cell Biology. And that led her back to her first love, biochemistry.  
She was applying for the McNair Scholars Program and had put together a mock proposal to do a structural study on a protein in the bacterium E. coli. She brought the proposal along when she toured Dr. Cate's lab with a neighbor of hers who worked in the lab. After looking over the proposal, he encouraged Maria to come and work in his lab.
"He said, 'Whether you get into the program or not, you should come and try it out. I can put you under someone who's doing a structural study and you can experience that for yourself.'"
Maria worked closely with graduate student Mia Pulos-Holmes investigating the role of a human protein complex called elF3 that is involved in making proteins in the body. She also helped on a new project using CRISPR-Cas9 for genome editing to learn more about another gene involved in how our bodies make proteins.
Balancing classes and lab work had been a challenge because Maria has a child. Professor Cate told her it was important to spend time in the lab every day in order to learn new techniques and get comfortable performing them so she started putting in an hour or two each day.  
Her sense of belonging also grew as Mia, the graduate student she was working with, started including her in more. "We were together almost all the time. I really feel like we bonded on other things apart from research and our projects.  Building that connection helped her get to know me better and get to know what level of support I needed. Instead of being just another undergraduate, you actually turn into a real person and I think it helps you feel welcomed in this space.
"I was just grateful that these people took a chance on someone who might not have had the time or the persistence to go into the research world not knowing what is waiting for them.
Professor Cate saw that I was struggling. He didn't give up on me and that was a really good feeling, knowing that he was going to support me to get there."